Bart Johnson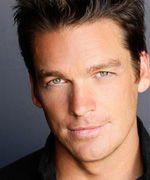 Born: Barton Robert Johnson
December 13, 1970 in Hollywood, California, USA

Currently known as "Coach Jack Bolton" in Disney's glabal phenomenon "High School Musical" 1, 2, and 3, opening wide theatrically from Disney Pictures in October 2008.

Bart's new project is "6 bucks and a bottle of water" – a documentary about Bart and his brothers hitchhiking from Hollywood Hills to Cano San Lucas with surfboards, the clothes on their backs, and of course, 6 bucks and a bottle of water.

Bart also starred on the TV Series "Hyperion Bay." from creator Joseph Doughty (Thirty Something).

From 2008-2009 Bart has seven other films being released, including "The Cell 2″ from the producers of "24″ and a thriller from the "High School Musical" Producers called "Animal." Bart has also guest starred and recurred in dozens of TV shows including: Las Vegas, Eve, JAG, CSI Miami, Tremors, Babylon 5, Strong Medicine, Clueless, and Diagnosis Murder.

In 2008 Bart debuts as a writer/director with an 18-minute 35mm short film entitled THE RUN. Bart took a cast and crew of 43 people, 5 ton trucks and a camera package from Panavision, deep into the desert of Baja Mexico for 10 days. The film, shot entirely in Mexico, is a prelude to a feature length film. The film has just been funded and Bart is scheduling the production to begin after the completion of High School Musical 3. Bart has also penned two additional screenplays for his company, Good Brothers Entertainment, scheduled to begin production in 2008.

In 2006 Bart bought "the family business," The Johnson Mill Bed & Breakfast (www.johnsonmill.com), in Midway, Utah, which Redbook magazine recently named "One of the 4 most romantic Inn's in the Country." He spends half of the year there on the 30 acres of land which boasts a 5-acre pond, 40-foot waterfall, is the only Inn that sits on the Provo river, offering blue ribbon fly fishing to his guests. His property is surrounded by 300 acres of wildlife reserve, and is only 7 minutes from the Deer Valley Gondola and another 7 minutes to Park City, The Canyons and Sundance ski resorts.

Bart married actress Robyn Lively in 1999, has three children, Baylen, Kate, Wyatt. They reside in their home in the Hollywood Hills.

Bart spends all the time he can back on home turf in Park City doing what he loves most: Skiing. He is also an avid surfer, rides dirt bikes, fly's airplanes and plays on a soccer team in Los Angeles.

In 2008 Bart will be driving in the Baja 1000 race in Mexico in a Sandrail sponsored by Monster, with racing partner Rick Schroder.
Contacter Bart Johnson
Bart Johnson
Luber Roklin Entertainment
8530 Wilshire Blvd.
Suite 550
Los Angeles, CA 90211
États-Unis